Chester is a historic city in Cheshire, England, known for its well-preserved Roman walls, medieval buildings, and charming streets. Here are some of the top things to do in Chester: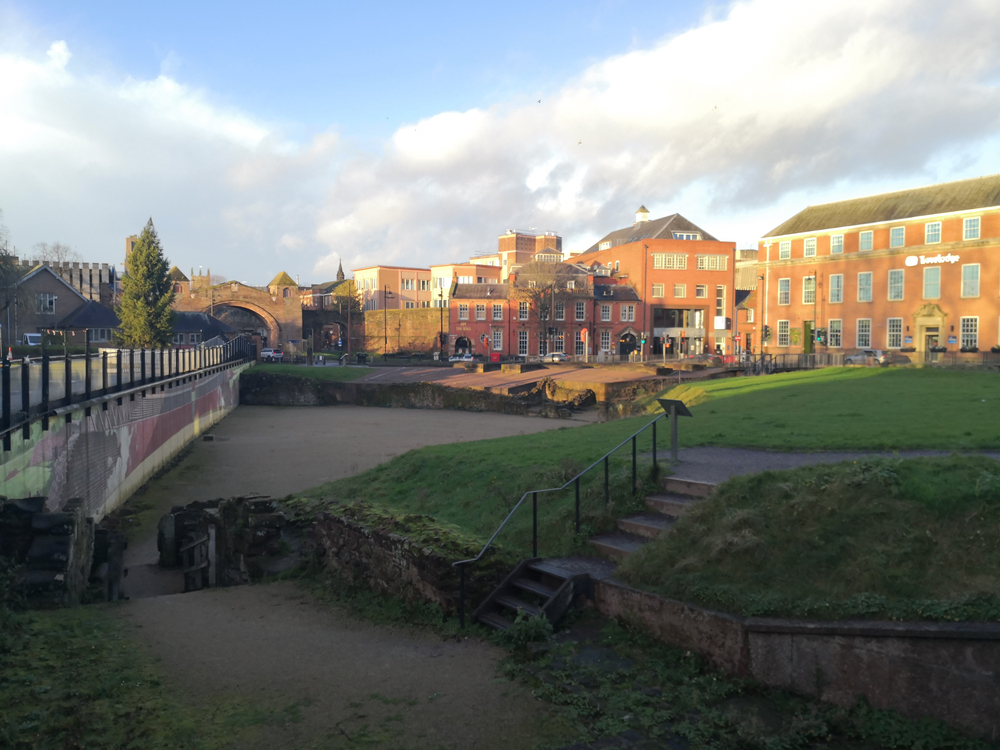 Roman amphitheatre in Chester Cheshire United Kingdom
Explore Chester Cathedral: Start your visit by exploring Chester Cathedral, a stunning medieval church with intricate architecture, beautiful stained glass windows, and a tranquil cloister. Climb the tower for panoramic views of the city.
Walk along the City Walls: Chester's Roman walls are the most complete in Britain and provide a unique perspective of the city. Take a leisurely stroll along the walls, which offer great views of the city's landmarks and attractions.
Visit the Chester Rows: The Chester Rows are unique medieval, two-tiered shopping galleries that line the city centre. Explore the Rows to discover a mix of independent shops, boutiques, cafes, and restaurants.
Discover Chester Zoo: Located just outside the city, Chester Zoo is one of the top zoos in the UK and home to a wide variety of animals. Spend a day exploring the zoo's extensive grounds, which feature habitats ranging from tropical rainforests to African savannahs.
Take a boat cruise on the River Dee: Enjoy a leisurely boat cruise along the picturesque River Dee, where you can take in scenic views and learn about Chester's history from the guides. Alternatively, you can rent a rowboat or a pedal boat to explore the river at your own pace.
Visit the Grosvenor Museum: Learn about Chester's rich history at the Grosvenor Museum, which showcases exhibits on archaeology, art, and social history. Don't miss the Roman gallery, which features artefacts from the city's Roman past.
Explore Eastgate Clock: Known as one of Chester's iconic landmarks, the Eastgate Clock is the second-most photographed clock in England after Big Ben. Take a stroll to this ornate clock, situated above the Eastgate, and enjoy the picturesque views of the city.
Experience the Chester Racecourse: If you're a fan of horse racing, catch a race at the historic Chester Racecourse. With a history dating back to the early 16th century, it's one of the oldest racecourses in the UK and offers a thrilling atmosphere.
Enjoy a River Dee cruise to see the Chester scenery from a different perspective.
Explore the Chester Roman Amphitheatre: Discover the remains of an ancient Roman amphitheatre, which once hosted gladiator fights and other spectacles. Learn about the city's Roman past and imagine the vibrant events that took place here.
Shop at the Chester Market: Visit the newly renovated Chester Market, where you'll find a wide range of stalls offering fresh produce, local delicacies, crafts, and more. It's a great place to sample local treats and find unique souvenirs.
Take a Ghost Tour: Chester is known for its haunted history, and taking a ghost tour can be a fun and spooky way to explore the city. Join a guided tour to discover the eerie stories and legends associated with Chester's historic buildings and streets.
These are just a few highlights of what Chester has to offer. The city is also known for its lively nightlife, with numerous pubs, bars, and restaurants scattered throughout the city centre. Enjoy the charming atmosphere and soak up the history and culture of this beautiful city.
Stay in Chester with Pass the Keys
Pass the Keys is a professional short-term property management company that offers vacation rentals in various cities, including Chester. Here's some information about staying in Chester with Pass the Keys:
Accommodation: Pass the Keys provides a selection of carefully managed properties in Chester, ranging from cosy apartments to spacious townhouses. These properties are fully furnished and equipped with amenities to ensure a comfortable stay for guests.
Central Locations: Pass the Keys' properties in Chester are strategically located in or near the city centre, allowing guests to easily explore the attractions, shops, and restaurants the city has to offer. You can choose a property that suits your preferences and desired location.
Personalized Experience: Pass the Keys aims to provide a personalized experience for guests. Their dedicated local team ensures that you receive a warm welcome and are available to assist you throughout your stay. They can provide recommendations, and local insights, and answer any questions you may have.
Easy Booking Process: Booking a property with Pass the Keys is straightforward. You can browse their website or contact their customer service team to find the available properties in Chester for your desired dates. The online booking process is secure and convenient.
Professional Cleaning and Maintenance: Pass the Keys and maintains high standards of cleanliness and hygiene. Their properties are professionally cleaned before each guest's arrival, and they have stringent protocols in place to ensure the safety and comfort of guests.
Flexibility: Pass the Keys offers flexible check-in and check-out times when possible, allowing you to tailor your stay to your travel plans. They strive to accommodate guest needs and make the stay as convenient as possible.
Guest Support: In case of any issues during your stay, Pass the Keys provides guest support services. They are available to address any concerns promptly and ensure a smooth and enjoyable experience.
By choosing to stay in a Pass the Keys property in Chester, you can expect comfortable, well-maintained accommodation in a central location, with a dedicated local team to assist you. It's a convenient and reliable option for your visit to this historic city.