Discover the stunning region of Copeland and South Lakeland, nestled in the picturesque Lake District of England. This city guide is your key to discovering the best activities and attractions for a memorable family adventure. From exploring enchanting lakes to encountering wildlife, embarking on scenic railway rides, and immersing yourselves in the world of beloved children's stories, Copeland and South Lakeland offer an array of experiences that will captivate both young and old. Get ready to create lasting memories as you delve into the natural beauty and rich heritage of this incredible destination.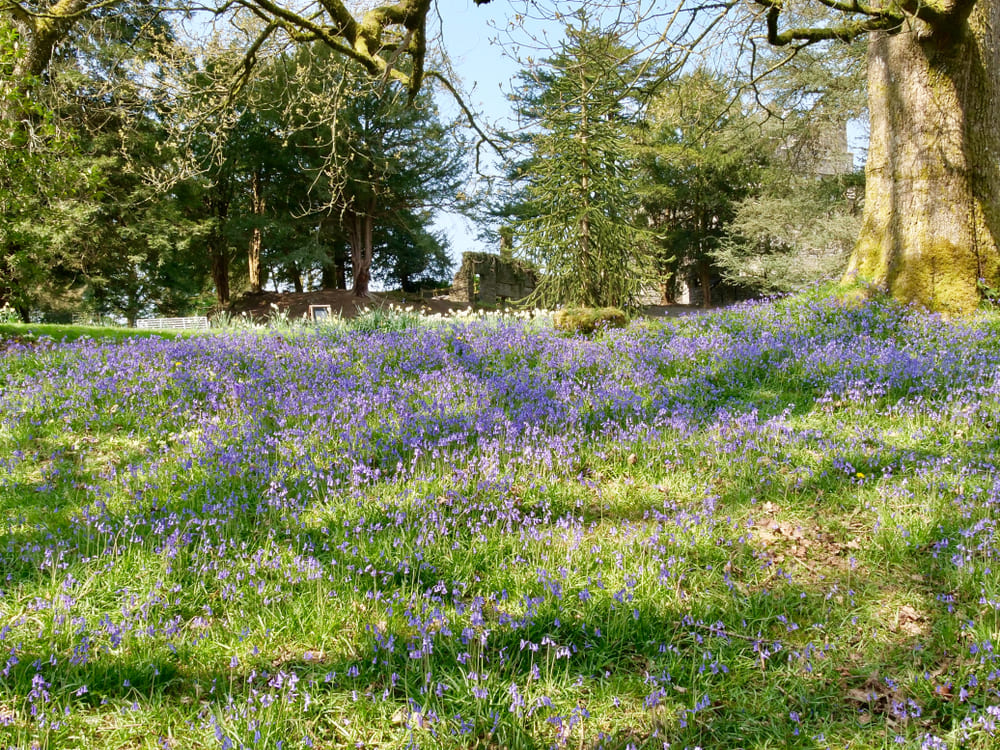 Bluebells at Wray Castle on the banks of Lake Windermere near Ambleside in the Lake District Cumbria
What To Do In Copeland and South Lakeland with the Kids
Here's a city guide on what to do with kids in Copeland and South Lakeland:
Lake Windermere: Start your adventure by visiting Lake Windermere, the largest lake in England. Enjoy a boat ride on the lake, take a cruise, or hire a rowing boat to explore the calm waters. The surrounding area offers scenic walks, picnic spots, and opportunities for birdwatching.
The World of Beatrix Potter: Located in Bowness-on-Windermere, The World of Beatrix Potter is a delightful attraction that brings to life the characters and stories of beloved children's author Beatrix Potter. Kids can explore the interactive exhibits, meet Peter Rabbit and his friends, and enjoy theatrical shows.
The Lake District Wildlife Park: Situated near Bassenthwaite Lake, the Lake District Wildlife Park is home to a variety of animals from around the world. Kids can observe and learn about lemurs, meerkats, otters, birds of prey, reptiles, and more. The park also offers feeding sessions and educational talks.
Ravenglass & Eskdale Railway: Take a ride on the Ravenglass & Eskdale Railway, also known as the "La'al Ratty." This narrow-gauge steam railway offers scenic journeys through the stunning Eskdale Valley. Kids will love the vintage steam trains and the opportunity to explore the charming villages along the way.
Muncaster Castle: Visit Muncaster Castle, a historic castle with beautiful gardens and stunning views. Kids can explore the castle's rooms, discover secret passages, and enjoy the extensive grounds. Don't miss the daily bird of prey displays, where magnificent birds soar overhead.
The Beacon: Located in Whitehaven, The Beacon is a museum and interactive science centre that offers a range of hands-on exhibits and activities for kids. Learn about the history of coal mining in the area, discover marine life, and explore the wonders of science through interactive displays.
Treetop Trek: For some outdoor adventure, head to Treetop Trek in Windermere. This high ropes course and zip line experience are suitable for older kids and teenagers. Challenge yourselves with treetop obstacles, zip lines, and breathtaking views of the Lake District.
Wray Castle: Take a trip to Wray Castle near Ambleside. This Victorian neo-Gothic castle offers family-friendly activities, including dressing up, exploring the castle's rooms, and playing in the adventure playground. The castle is also located on the shores of Lake Windermere, providing a picturesque setting.
South Lakes Safari Zoo: Located in Dalton-in-Furness, the South Lakes Safari Zoo is home to a wide range of animals, including big cats, primates, giraffes, penguins, and more. Kids can enjoy close encounters with the animals, take part in feeding sessions, and even become a zookeeper for a day.
Brockhole on Windermere: Visit Brockhole on Windermere, a visitor centre and activity hub. Kids can enjoy treetop nets, zip lines, adventure playgrounds, and interactive exhibits. There's also a mini-golf course, gardens to explore, and lake cruises departing from the centre.
These are just a few of the many family-friendly activities and attractions in Copeland and South Lakeland. The region offers a wealth of natural beauty, outdoor adventures, and educational experiences that will keep kids entertained and create lasting memories for the whole family.
Best Places to Visit Copeland and South Lakeland
Copeland and South Lakeland in the Lake District region of England are filled with stunning landscapes, charming towns, and historical sites. Here are some of the best places to visit in Copeland and South Lakeland:
Lake Windermere: The largest lake in England, Lake Windermere offers breathtaking scenery and a range of activities. Take a boat cruise, hire a rowboat, or simply enjoy a leisurely stroll along the shoreline.
Keswick: This picturesque market town is located near Derwentwater, another beautiful lake in the Lake District. Explore Keswick's charming streets, browse local shops, and visit the renowned Pencil Museum.
Scafell Pike: As the highest peak in England, Scafell Pike is a must-visit for outdoor enthusiasts and hikers. Challenge yourself to reach the summit and be rewarded with spectacular panoramic views.
Wasdale Valley: Known for its dramatic beauty, Wasdale Valley is a secluded area surrounded by mountains, including Scafell Pike. Enjoy hiking trails, admire Wastwater (England's deepest lake), and soak in the tranquil atmosphere.
Beatrix Potter's Hill Top: Visit the former home of beloved children's author Beatrix Potter. Hill Top is a charming 17th-century farmhouse filled with the author's personal belongings and inspiration for her famous stories.
Grasmere: This quaint village is famous for its connections to the poet William Wordsworth. Explore the Wordsworth Museum and enjoy the tranquil beauty of Grasmere Lake.
Coniston Water: Another picturesque lake in the region, Coniston Water offers opportunities for boating, sailing, and paddleboarding. Take a cruise on the historic steam yacht Gondola and enjoy the scenic surroundings.
Ravenglass: Located on the coast, Ravenglass is a historic village with Roman origins. Visit the Ravenglass Roman Bath House and take a ride on the Ravenglass & Eskdale Railway, also known as the "La'al Ratty."
Muncaster Castle: Explore the magnificent Muncaster Castle, set amidst stunning gardens and woodlands. Discover its rich history, marvel at the beautiful interiors, and enjoy bird of prey displays.
St. Bees: Situated on the Cumbrian coast, St. Bees is known for its scenic beach and stunning cliffs. It is also the starting point of the famous long-distance walk, the Coast to Coast Path.
Ambleside: This bustling town serves as a gateway to the Lake District and offers a range of outdoor activities, including hiking, cycling, and watersports. Visit the Armitt Museum to learn about the area's cultural heritage.
Eskdale: Nestled in a peaceful valley, Eskdale offers scenic beauty and access to numerous walking and hiking trails. Ride on the Ravenglass & Eskdale Railway, visit the historic St. Catherine's Church, and enjoy the tranquillity of the area.
These are just a few of the many incredible places to visit in Copeland and South Lakeland. Whether you're seeking natural beauty, cultural heritage, outdoor adventures, or peaceful moments, this region has something for everyone to enjoy.
Stay in Copeland and South Lakeland with Pass the Keys
Pass the Keys is a professional short-term property management company that offers vacation rentals in various cities, including Copeland and South Lakeland in the Lake District. Here's some information about staying in Copeland and South Lakeland with Pass the Keys:
Accommodation: Pass the Keys provides a selection of carefully managed properties in Copeland and South Lakeland, ranging from cozy cottages to spacious holiday homes. These properties are fully furnished and equipped with amenities to ensure a comfortable stay for guests.
Idyllic Locations: Pass the Keys' properties are strategically located in scenic areas, close to the region's natural attractions and charming villages. Whether you prefer lakeside retreats, countryside escapes, or properties near town centers, there are options to suit your preferences.
Personalized Experience: Pass the Keys aims to provide a personalized experience for guests. Their dedicated local teams ensure that you receive a warm welcome and are available to assist you throughout your stay. They can provide recommendations, local insights, and answer any questions you may have.
Easy Booking Process: Booking a property with Pass the Keys is straightforward. You can browse their website or contact their customer service team to find available properties in Copeland and South Lakeland for your desired dates. The online booking process is secure and convenient.
Professional Cleaning and Maintenance: Pass the Keys maintains high standards of cleanliness and hygiene. Their properties are professionally cleaned before each guest's arrival, and they have stringent protocols in place to ensure the safety and comfort of guests.
Flexibility: Pass the Keys offers flexible check-in and check-out times when possible, allowing you to tailor your stay to your travel plans. They strive to accommodate guest needs and make the stay as convenient as possible.
Guest Support: In case of any issues during your stay, Pass the Keys provides guest support services. They are available to address any concerns promptly and ensure a smooth and enjoyable experience.
By choosing to stay in a Pass the Keys property in Copeland and South Lakeland, you can expect a comfortable, well-maintained accommodation in an idyllic location, with a dedicated local team to assist you. It's a convenient and reliable option for your visit to this breathtaking region of the Lake District.