Dumfries & Galloway, located in southwest Scotland, offers a beautiful blend of stunning landscapes, historic sites, and cultural attractions. Here is a city guide on what to do in Dumfries & Galloway: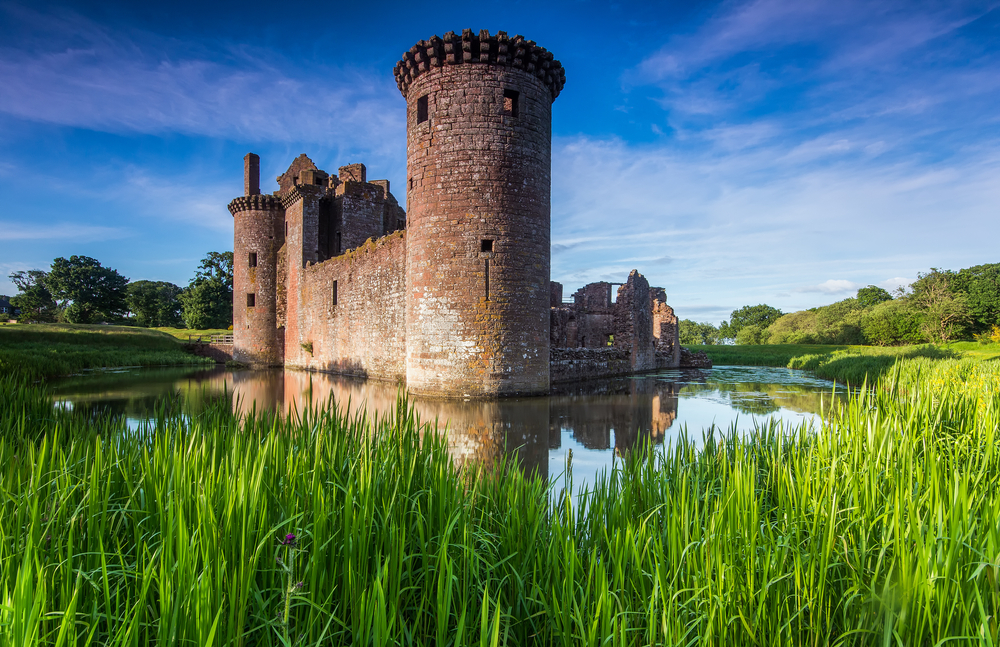 Caerlaverock Castle, Dumfries and Galloway
Caerlaverock Castle: Explore Caerlaverock Castle, a medieval fortress surrounded by a moat and set in beautiful countryside. Marvel at its unique triangular shape, tour the castle interiors, and learn about its fascinating history.
Galloway Forest Park: Discover the natural beauty of Galloway Forest Park, the largest forested area in Britain. Go hiking or cycling through its scenic trails, enjoy wildlife spotting, and stargaze at one of the park's Dark Sky Discovery Sites.
Sweetheart Abbey: Visit Sweetheart Abbey, a picturesque ruined abbey located near Dumfries. Admire its Gothic architecture, stroll through the tranquil grounds, and learn about its romantic history.
Drumlanrig Castle: Explore Drumlanrig Castle, an impressive stately home surrounded by beautiful gardens and woodlands. Take a guided tour of the castle's opulent interiors, wander through the extensive grounds, and enjoy outdoor activities such as walking or cycling.
Robert Burns Birthplace Museum: Immerse yourself in the life and works of Scotland's national poet at the Robert Burns Birthplace Museum in Alloway. Learn about Burns' upbringing, view original manuscripts, and explore the museum's interactive exhibits.
Threave Castle: Take a boat trip to Threave Castle, a historic fortress situated on an island in the River Dee. Enjoy the scenic journey, explore the castle ruins, and learn about its turbulent past.
Wigtown: Visit the book town of Wigtown, known for its numerous independent bookshops and annual book festival. Browse through the extensive collection of books, attend literary events, and soak up the literary atmosphere.
Portpatrick: Enjoy the coastal charm of Portpatrick, a picturesque fishing village with colorful houses and a scenic harbor. Take a leisurely stroll along the promenade, indulge in fresh seafood, and admire the coastal views.
Mull of Galloway: Venture to the Mull of Galloway, the southernmost point of Scotland. Climb the Mull of Galloway Lighthouse for panoramic views, explore the RSPB Scotland nature reserve, and spot seabirds and marine life.
Kirkcudbright: Discover the artistic heritage of Kirkcudbright, a town known as the "Artist's Town." Visit galleries showcasing local artwork, explore the historic streets, and enjoy the town's creative vibe.
When staying in Dumfries & Galloway, Pass the Keys offers professionally managed vacation rentals, ensuring a comfortable and convenient base for exploring the region and its attractions.