Welcome to the breathtaking Lake District, a UNESCO World Heritage site and one of the most scenic regions in England. This city guide will help you discover the best activities and attractions in the Lake District: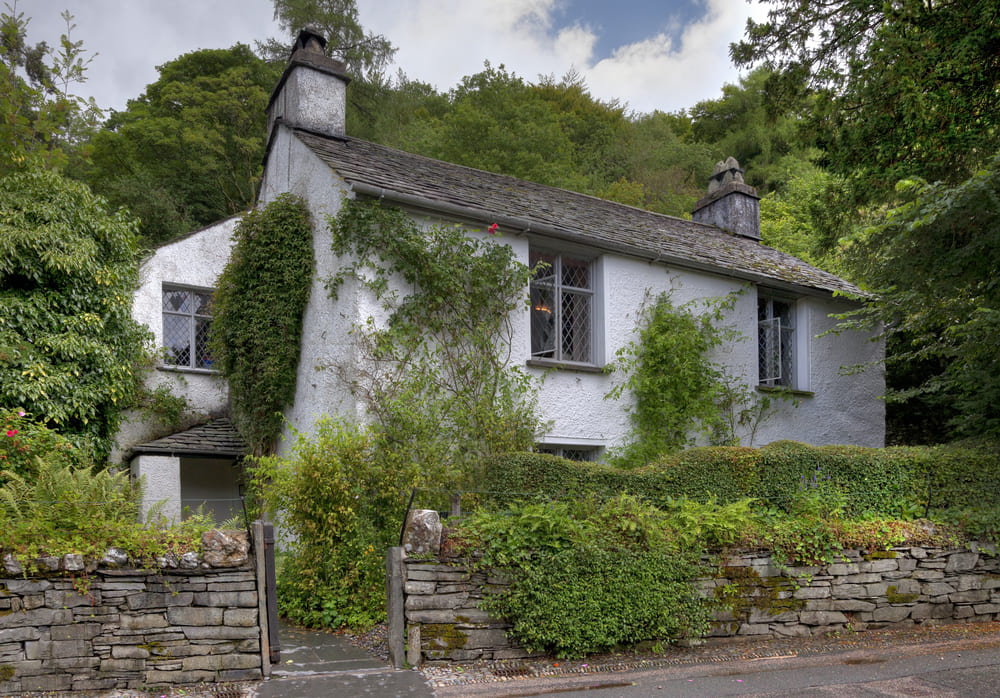 Dove Cottage the home of poet William Wordsworth
Explore the Lakes: With 16 stunning lakes, including Windermere, Ullswater, and Derwentwater, exploring the tranquil waters is a must. Take a leisurely cruise, hire a rowboat, or simply enjoy a lakeside walk while taking in the stunning views.
Hiking and Walking: The Lake District is a hiker's paradise, offering a wide range of trails for all levels of fitness. Climb England's highest peak, Scafell Pike, explore the picturesque valleys, or enjoy a leisurely stroll through the charming villages and countryside.
Visit Beatrix Potter's Home: Discover the world of beloved children's author Beatrix Potter at Hill Top, her former home in Near Sawrey. Explore the charming farmhouse and gardens that inspired her timeless tales.
Historic Castles and Houses: The Lake District is dotted with historic castles and stately homes. Visit impressive structures like Muncaster Castle, Dalemain Mansion, and Levens Hall, and immerse yourself in their rich history and beautiful gardens.
Enjoy Watersports: With its numerous lakes, the Lake District offers fantastic opportunities for watersports. Try your hand at kayaking, paddleboarding, sailing, or even wild swimming in the refreshing waters of the region.
Be Inspired by Wordsworth: Follow in the footsteps of renowned poet William Wordsworth. Visit his former home, Dove Cottage, in Grasmere, and explore the Wordsworth Museum to learn about his life and literary works.
Ride a Steam Train: Experience the nostalgia of a bygone era by taking a ride on one of the Lake District's historic steam trains. The Ravenglass & Eskdale Railway and the Lakeside & Haverthwaite Railway offer scenic journeys through the stunning landscapes.
Wildlife Encounters: The Lake District is home to a variety of wildlife. Explore the Lake District Wildlife Park, where you can see exotic animals up close, or embark on a wildlife-watching boat tour to spot ospreys, red deer, and other native species.
Indulge in Local Cuisine: Sample the delicious local food and drink offerings of the Lake District. Enjoy traditional dishes like Cumberland sausage, Herdwick lamb, and Kendal Mint Cake, and visit local breweries and distilleries for a taste of the region's beverages.
Visit Charming Villages: Discover the quaint villages that dot the Lake District, such as Ambleside, Keswick, and Bowness-on-Windermere. Wander through their narrow streets, browse local shops, and enjoy the cozy atmosphere of these picturesque settlements.
Whether you're seeking outdoor adventures, or cultural experiences, or simply want to relax amidst stunning natural beauty, the Lake District has something for everyone. Immerse yourself in the magic of this enchanting region and create lasting memories in this captivating destination.
Stay in Lake District with Pass the Keys
Pass the Keys is a professional short-term property management company that offers vacation rentals in various cities, including the stunning Lake District. Here's some information about staying in the Lake District with Pass the Keys:
Accommodation: Pass the Keys provides a selection of carefully managed properties in the Lake District, ranging from cozy cottages to spacious holiday homes. These properties are fully furnished and equipped with amenities to ensure a comfortable stay for guests.
Scenic Locations: Pass the Keys' properties are strategically located in picturesque areas throughout the Lake District, offering stunning views and easy access to the region's natural attractions. Whether you prefer lakeside retreats, countryside escapes, or properties near charming villages, there are options to suit your preferences.
Personalized Experience: Pass the Keys aims to provide a personalized experience for guests. Their dedicated local teams ensure that you receive a warm welcome and are available to assist you throughout your stay. They can provide recommendations, local insights, and answer any questions you may have.
Easy Booking Process: Booking a property with Pass the Keys is straightforward. You can browse their website or contact their customer service team to find available properties in the Lake District for your desired dates. The online booking process is secure and convenient.
Professional Cleaning and Maintenance: Pass the Keys maintains high standards of cleanliness and hygiene. Their properties are professionally cleaned before each guest's arrival, and they have stringent protocols in place to ensure the safety and comfort of guests.
Flexibility: Pass the Keys offers flexible check-in and check-out times when possible, allowing you to tailor your stay to your travel plans. They strive to accommodate guest needs and make the stay as convenient as possible.
Guest Support: In case of any issues during your stay, Pass the Keys provides guest support services. They are available to address any concerns promptly and ensure a smooth and enjoyable experience.
By choosing to stay in a Pass the Keys property in the Lake District, you can expect comfortable, well-maintained accommodation in a scenic location, with a dedicated local team to assist you. It's a convenient and reliable option for your visit to this breathtaking region of natural beauty.