Welcome to Newcastle, a vibrant city in northeast England known for its rich history, lively nightlife, and friendly atmosphere. Here's a city guide to help you make the most of your visit and discover the best things to do in Newcastle: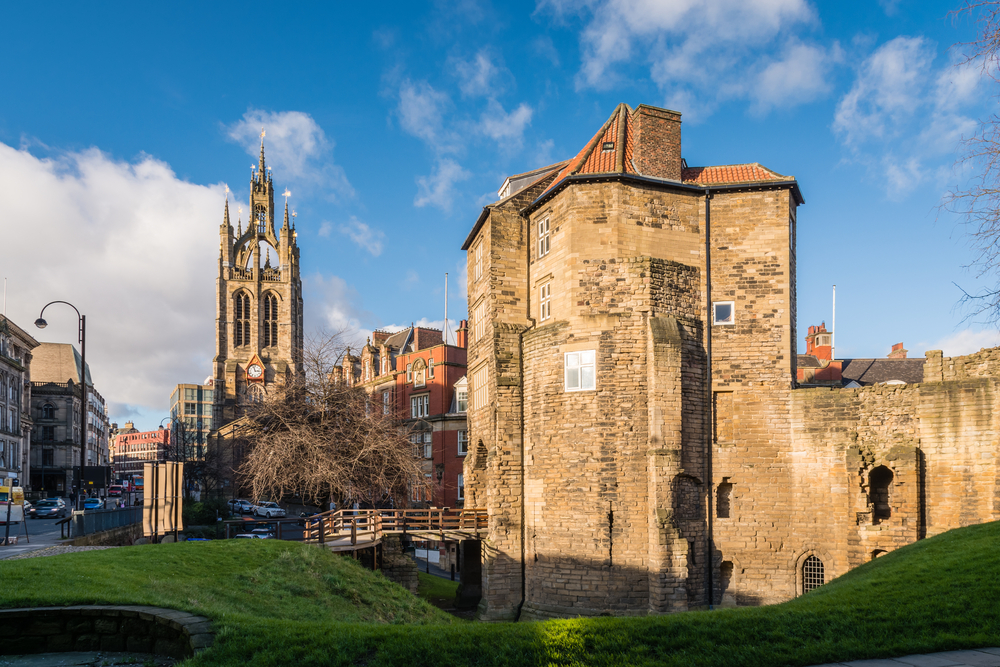 Cathedral Church of St Nicholas in the heart of Newcastle upon Tyne
Newcastle Castle: Begin your exploration at Newcastle Castle, also known as the Castle Keep. Climb to the top of the castle for panoramic views of the city and the River Tyne. Learn about the region's fascinating history and discover the stories behind this iconic landmark.
Quayside: Take a stroll along the Quayside, a picturesque waterfront area that offers stunning views of the Tyne Bridge, the Gateshead Millennium Bridge, and the iconic architecture that defines the city's skyline. Enjoy the vibrant atmosphere, visit the Sunday Quayside Market, and explore the array of bars and restaurants.
The Baltic Centre for Contemporary Art: Immerse yourself in the world of contemporary art at the Baltic Centre for Contemporary Art. Located in a converted flour mill on the Gateshead side of the Quayside, the Baltic showcases thought-provoking exhibitions, installations, and performances from renowned artists.
Victoria Tunnel: Delve underground and explore the Victoria Tunnel, an 19th-century wagonway that was later converted into an air-raid shelter during World War II. Take a guided tour to learn about the tunnel's history and its role in protecting the city's residents during the war.
St. James' Park: Football fans shouldn't miss a visit to St. James' Park, the home stadium of Newcastle United Football Club. Take a stadium tour to get behind-the-scenes access, learn about the club's history, and experience the electric atmosphere of a matchday.
The Discovery Museum: Discover the history and heritage of Newcastle at The Discovery Museum. Explore interactive exhibits that showcase the city's industrial past, including its shipbuilding and engineering achievements. Don't miss the chance to see Stephenson's Rocket, a historic steam locomotive.
The Great North Museum: Immerse yourself in natural history, archaeology, and world cultures at The Great North Museum. Discover fascinating artifacts, including the skeleton of a T-Rex, ancient Egyptian mummies, and artifacts from around the world.
Grey Street and Grainger Town: Take a stroll along Grey Street, one of the most beautiful streets in the UK, lined with elegant Georgian buildings. Explore Grainger Town, a historic area with stunning architecture, boutique shops, and charming cafes.
Newcastle Quayside Market: If you're visiting on a Sunday, make sure to check out the Newcastle Quayside Market. Browse through a wide range of stalls offering everything from local produce and artisan crafts to vintage clothing and antiques.
Live Music and Nightlife: Newcastle has a vibrant live music and nightlife scene. Explore the city's many bars, pubs, and clubs, offering a variety of entertainment options, from live music and DJ sets to comedy shows and theater performances.
Remember to check local listings and events for specific dates and timings during your visit. Newcastle offers a diverse range of attractions and experiences, ensuring that there's something for everyone to enjoy in this dynamic city.
What To Do in Newcastle with the Kids
Newcastle is a fantastic city to visit with kids, offering a range of family-friendly attractions and activities. Here are some things to do in Newcastle with the kids:
Life Science Centre: Explore the Life Science Centre, a hands-on science museum that offers interactive exhibits, planetarium shows, and a variety of workshops and activities for children of all ages. Kids can learn about dinosaurs, space, robotics, and much more.
Seven Stories: Visit Seven Stories, the National Centre for Children's Books. This unique museum celebrates children's literature and offers interactive exhibitions, storytelling sessions, and workshops where kids can unleash their creativity and imagination.
Discovery Museum: Take the kids to the Discovery Museum, where they can learn about Newcastle's industrial past through interactive exhibits and displays. They can explore historical artifacts, take part in science experiments, and even board a full-size locomotive.
The Great North Museum: Visit The Great North Museum, where kids can discover natural history, archaeology, and world cultures. The museum has a dedicated gallery for children, featuring interactive displays and activities to engage young minds.
Blue Reef Aquarium: Dive into the underwater world at the Blue Reef Aquarium. Kids can marvel at a variety of marine creatures, including sharks, stingrays, seahorses, and colorful tropical fish. Don't miss the daily feeding sessions and the chance to interact with some of the animals.
Newburn Activity Centre: Head to the Newburn Activity Centre, located just outside Newcastle, for a day of adventure. Kids can try their hand at activities like rock climbing, archery, canoeing, and orienteering in a safe and supervised environment.
Paddy Freeman's Park: Enjoy some outdoor fun at Paddy Freeman's Park. This expansive green space offers playgrounds, sports fields, a skate park, and beautiful walking trails where kids can run, play, and enjoy the fresh air.
Ouseburn Farm: Visit Ouseburn Farm, a community-run farm where kids can meet and interact with various animals, including goats, pigs, rabbits, and chickens. The farm also organizes educational activities and workshops for children.
Parks and Playgrounds: Newcastle has many parks and playgrounds where kids can burn off some energy. Leazes Park, Exhibition Park, and Jesmond Dene are popular choices, offering open spaces, playgrounds, and picturesque surroundings.
Theatre Royal: Treat the kids to a family-friendly show at the Theatre Royal. The theatre hosts a variety of performances, including musicals, plays, and pantomimes that will captivate the whole family.
These are just a few of the many family-friendly attractions and activities available in Newcastle. With its combination of educational and entertaining options, the city offers a great experience for kids of all ages.
Stay in Newcastle with Pass the Keys
Pass the Keys is a professional short-term property management company that offers vacation rentals in various cities, including Newcastle. Here's some information about staying in Newcastle with Pass the Keys:
Accommodation: Pass the Keys provides a range of carefully managed properties in Newcastle, including apartments and houses. These properties are fully furnished and equipped with amenities to ensure a comfortable stay for families.
Convenient Locations: Pass the Keys' properties in Newcastle are located in convenient areas, allowing easy access to the city's attractions, family-friendly activities, and amenities. Whether you're visiting for sightseeing or spending quality time with your family, there are accommodation options available to suit your needs.
Spacious and Family-Friendly: Pass the Keys understands the needs of families and provides spacious accommodations that are suitable for families with children. You can expect comfortable living spaces, multiple bedrooms, and amenities like fully equipped kitchens, laundry facilities, and Wi-Fi.
Personalized Experience: Pass the Keys aims to provide a personalized experience for guests. Their dedicated local teams ensure that you receive a warm welcome and are available to assist you throughout your stay. They can provide recommendations, and local insights, and answer any questions you may have.
Easy Booking Process: Booking a property with Pass the Keys is straightforward. You can browse their website or contact their customer service team to find available properties in Newcastle for your desired dates. The online booking process is secure and convenient.
Professional Cleaning and Maintenance: Pass the Keys and maintains high standards of cleanliness and hygiene. Their properties are professionally cleaned before each guest's arrival, and they have stringent protocols in place to ensure the safety and comfort of guests.
Flexibility: Pass the Keys offers flexible check-in and check-out times when possible, allowing you to tailor your stay to your family's travel plans. They strive to accommodate guest needs and make the stay as convenient as possible.
Guest Support: In case of any issues during your stay, Pass the Keys provides guest support services. They are available to address any concerns promptly and ensure a smooth and enjoyable experience for you and your family.
By choosing to stay in a Pass the Keys property in Newcastle, you can expect comfortable, well-maintained accommodation in a convenient location, with a dedicated local team to assist you. It's a convenient and reliable option for your family's stay in this vibrant city.